Dog Friendly Review: The Staypineapple Hotel Group
Our founders review of the Staypineapple Hotel Group, who own some of the dog friendliest hotels in America.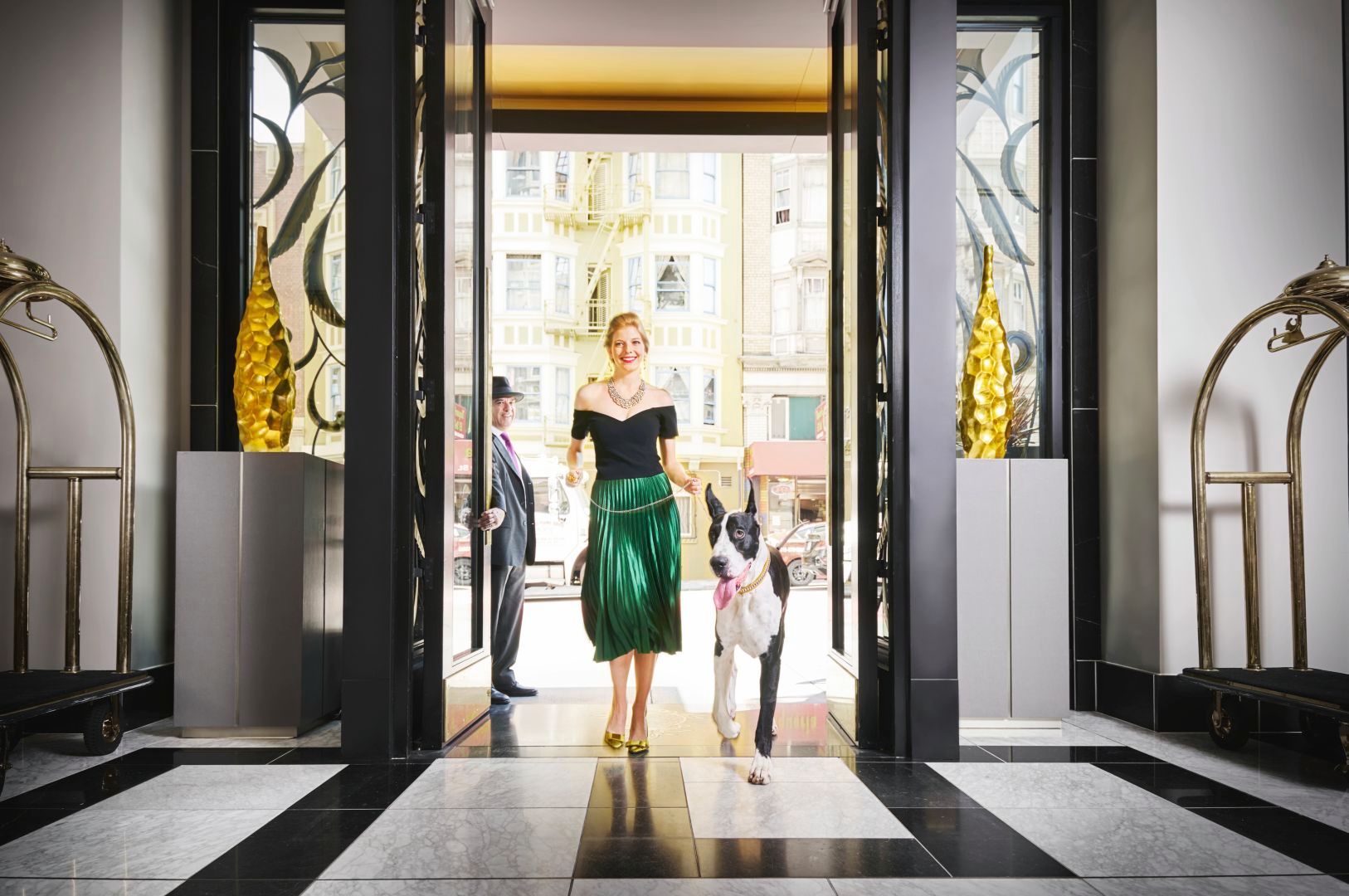 Welcome to my dog friendly review of the Staypineapple Hotel group, easily one of the dog friendliest group of hotels I have ever had the pleasure of certifying. I personally deal with the certification of our early adopter hotels so that I can talk directly to the people who run them to learn everything I can about their approach to dog friendliness, how they formulate their dog friendly policies, and the services or amenities that they offer to their canine guests.
As a dog owner it was immediately obvious that Staypineapple is a wonderfully dog friendly hotel group. The founder of the group, Michelle Barnet, is a dog lover, and the proud owner of a rather handsome Husky called Dash who is the official mascot for the hotel. They even made Dash into a cute little plush toy that they put in every room, and if you buy one for your dog the proceeds of the sale go to canine charities, a deliberate and inspired policy showing that Staypineapple actually does care about charitable canine causes.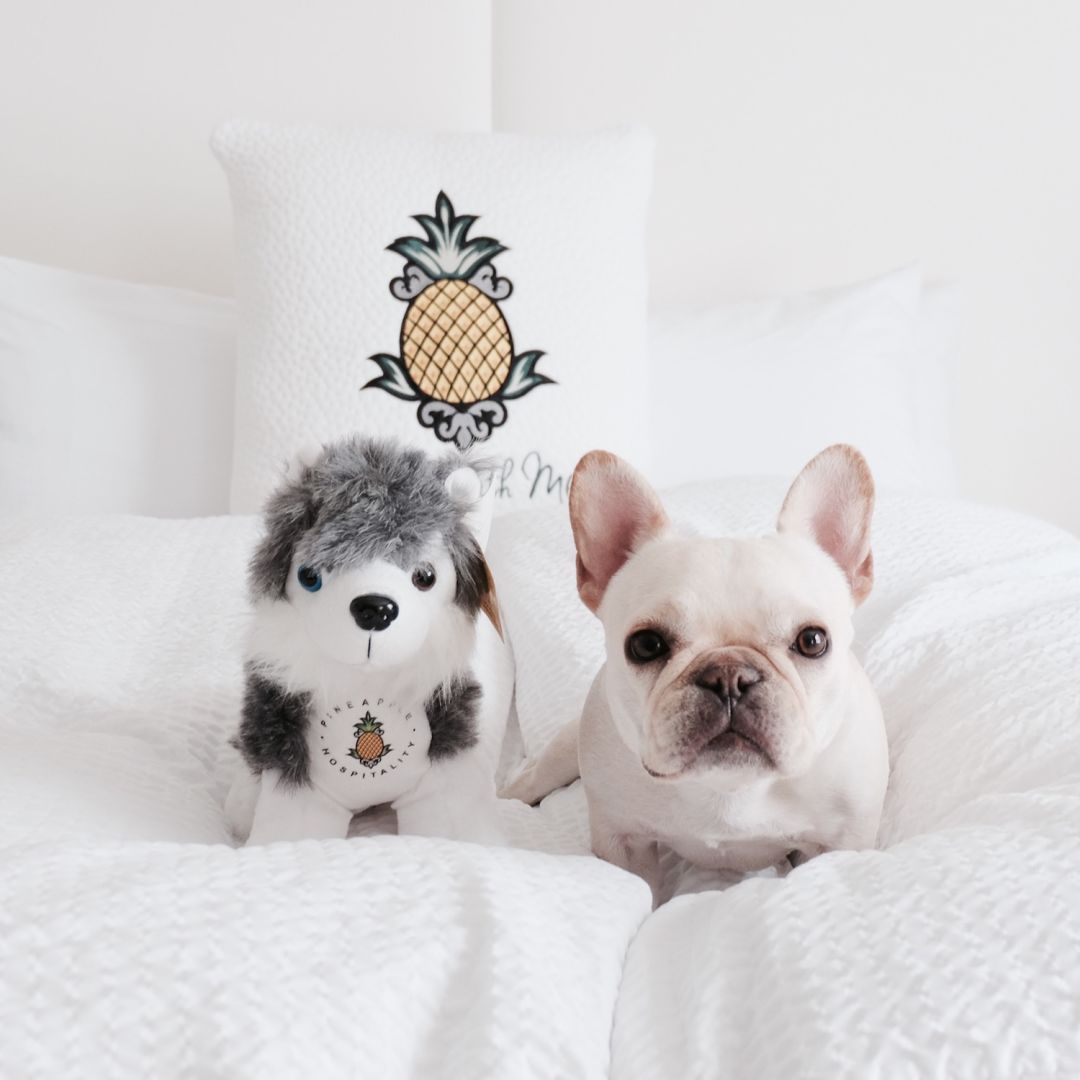 As I called through the ten hotels in the group to speak with the General Managers at their hotels, it was immediately obvious that pretty much everyone I spoke to were all either dog owners, or dog lovers. This is because the Staypineapple group covers dog friendliness in their recruitment selection process to make sure that their staff are dog friendly before they even get hired.
The best thing about the Staypineapple is how easy they make traveling with your dog, you do not need to pack a bed, or bowls as they are provided by the hotels. You also get a free 'goodie bag' containing dog treats, a collapsible water bowl, and a snazzy branded dog poop bag holder and bags for when you are out and about in the city with your dog. Their low dog fees are a big positive that count where it matters, in your wallet. I have spent fortunes on dog fees over the years, so it's nice to find a hotel with competitively low dog fees.
Finally those of us with large dog breeds can find a home at Staypineapple, who not only have no canine size restrictions in place, but also let you leave the dog in the room on their own if you want to head out for dinner and cannot take them.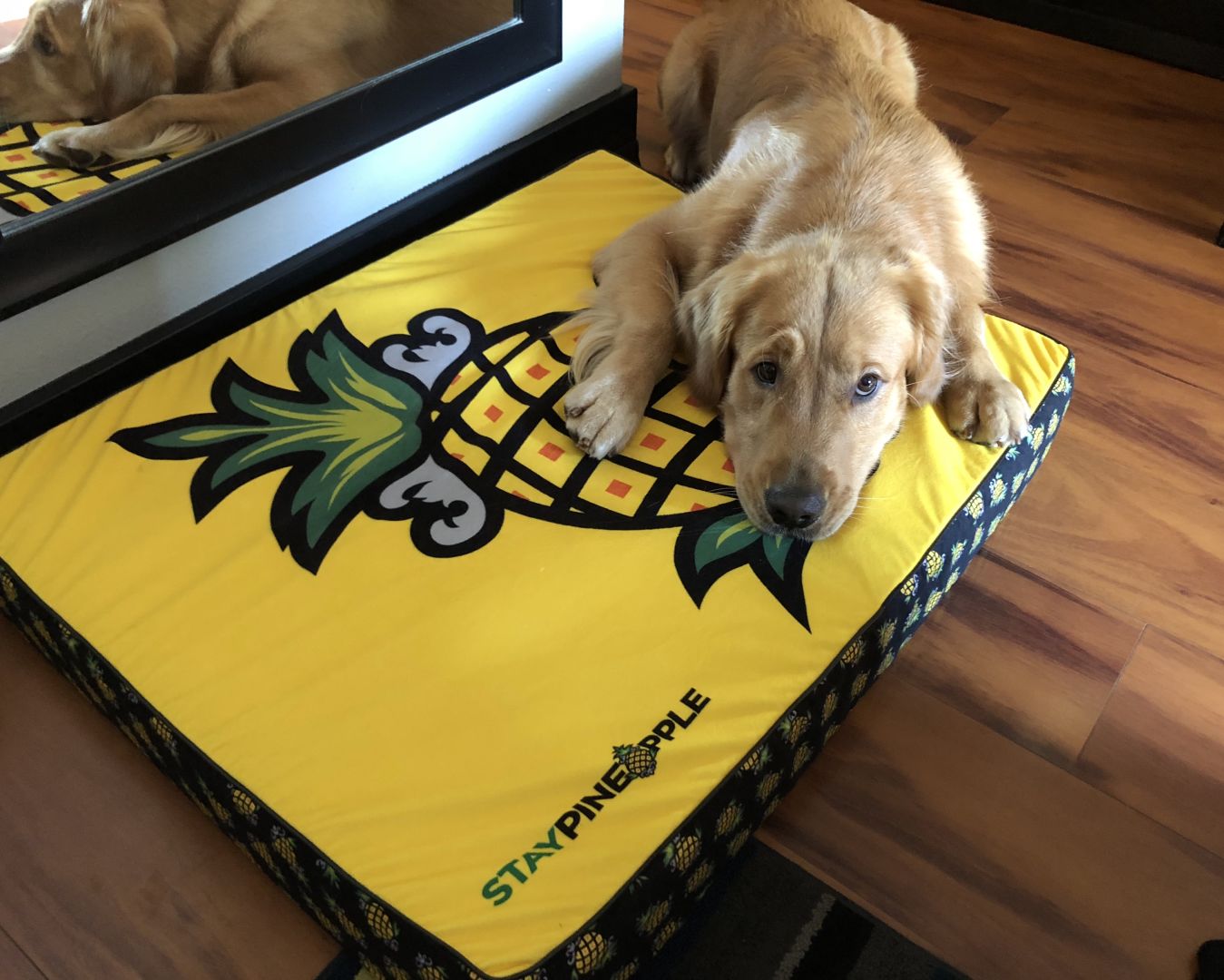 Staypineapple's policies in general are what make them stand out from the pack, it is obvious that they strive to provide a friendlier environment for their canine guests, they also communicate these policies clearly on their website which makes a really nice change from having to dig through small print to find them.
Competitive Dog Friendliness
After speaking with a number of executives at Staypineapple, it became clear that they take 'dog friendly' seriously internally. They constantly gather intelligence on their peers, and conduct a thorough analysis to compare their own dog friendly policies to their competitors on a regular basis to make sure that they lead the pack, and it shows. After personally certifying many of their competitors, I can tell you that Staypineapple properties are easily the most dog friendly hotels in their territories. The Staypineapple Hotel Group is not just dog friendly, they are competitively dog friendly and determined to be better at it than anyone else.
Dog Friendly Events & Activities
Going above and beyond the definition of dog friendliness, Staypineapple holds a number of dog friendly events and activities that you and your dog will love.
Every February is "Pineapple Pup Plus One Month," where they waive all pet fees for the entire month so furbaby families can "show the Vday love" to their pets. If you want to visit to their hotels, February is the month to book a room!
This year they hosted their first annual "Mother's Day Paw-Tay," a fundraiser event in collaboration with Seattle Humane, meant to celebrate the Pet Moms out there. The event was popular and got covered by the local newspapers.
Every October they host a "Pineapple Pup Costume Contest" social media sweepstakes event. Not an in-person event, but still a VERY fun and awesome initiative because the winner gets a free two night stay for them and their dog!
The Staypineapple Dog Friendly Hotel Collection
The highest ranking hotel in the Staypineapple group is their Watertown Hotel in the University District in Seattle, which scores an A grade because of its dog friendly cafe, an amenity the other hotels lack. They also go a little further at the Watertown by offering dog walking and sitting services through a third party, scoring them more points than their sister hotels in our certification.
Closeby to the Watertown Hotel are some fantastic public park green spaces to walk your dog, like the Union Bay Natural Area, and Parrington Lawn.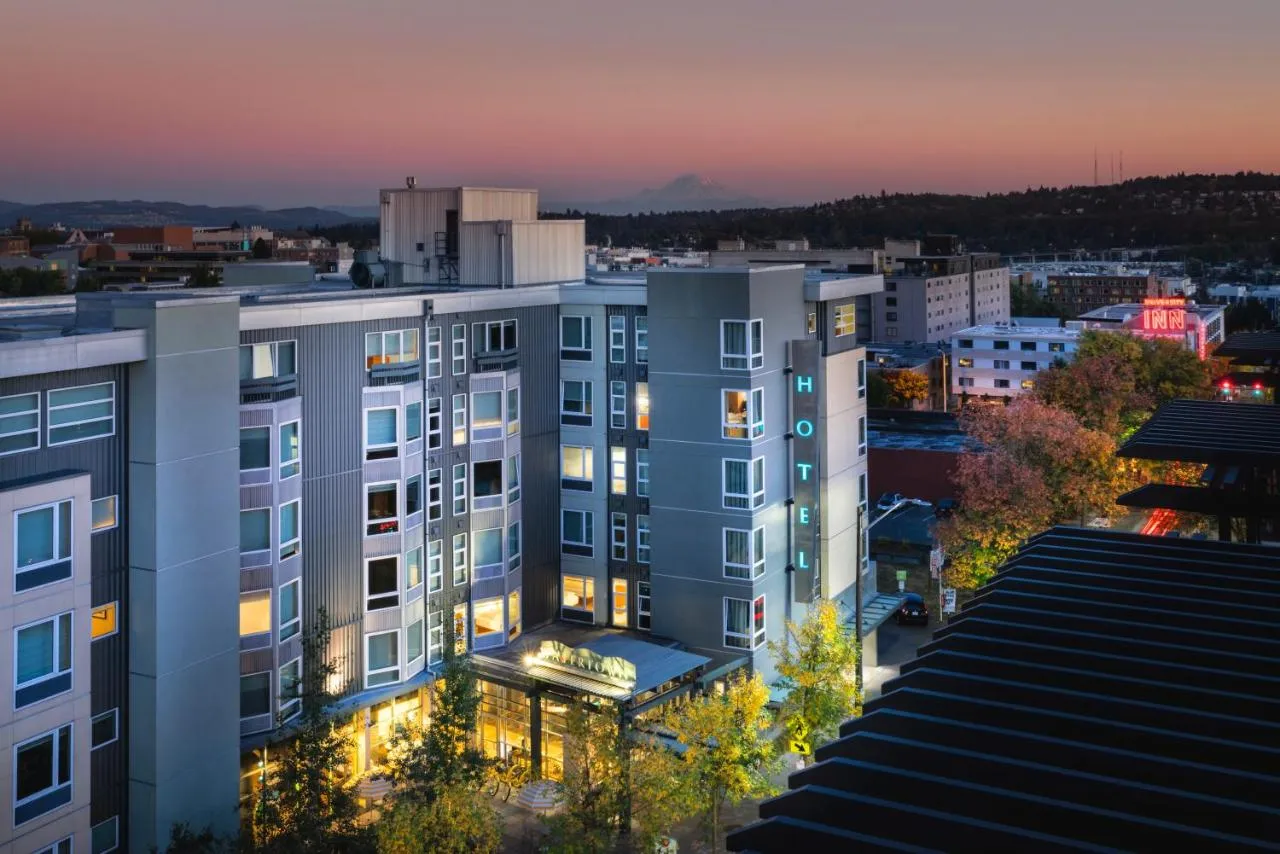 The rest of the Staypineapple hotels rank a solid B+ across the board, as I mentioned earlier they failed to make the top grade through lack of private gardens, but it isn't something that is within their control in the city center.
In San Francisco the Staypineapple, an Elegant Hotel, is situated right in the Union Square district, a few blocks from the Moscone Convention Center, but because of its city center location you have to walk a good few blocks to get to the nearest green spaces at South Beach Park and Jefferson Square Park.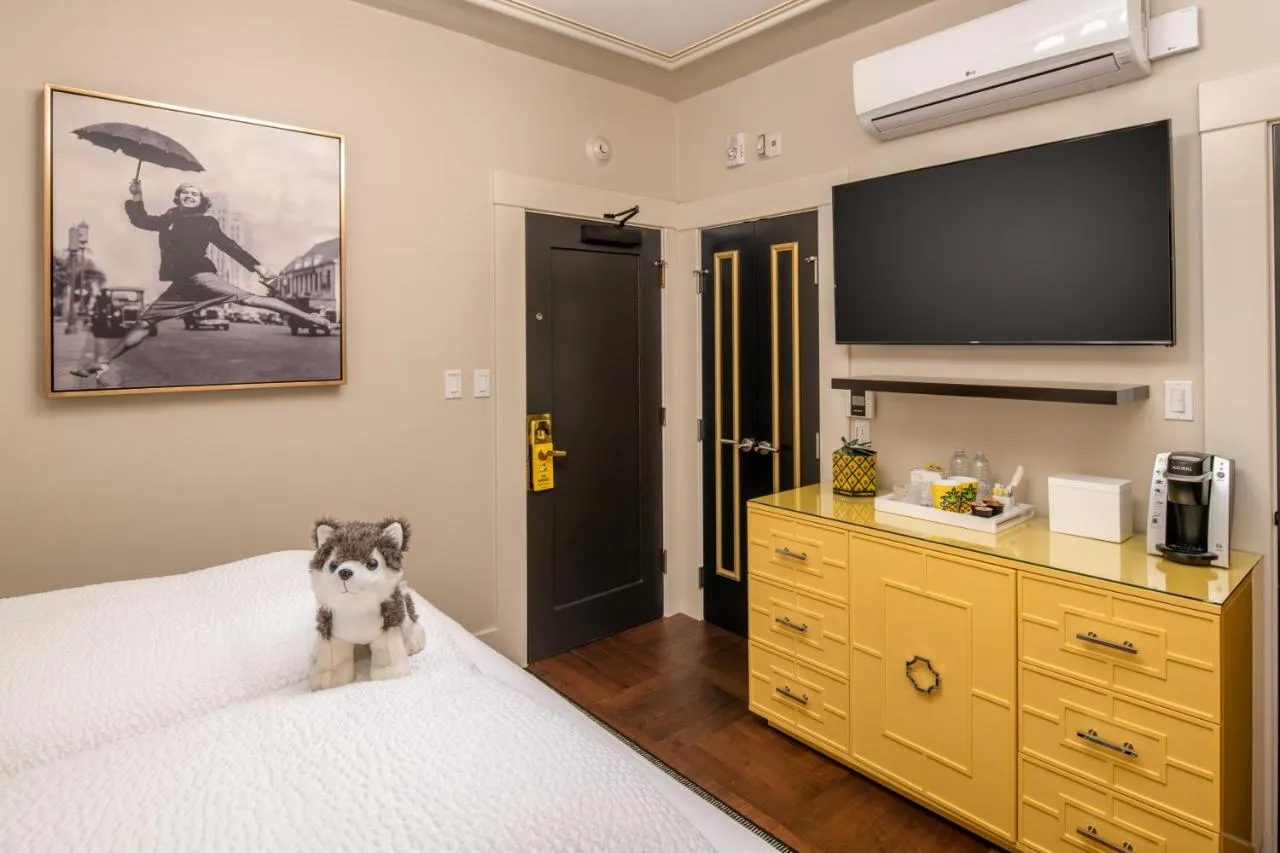 In midtown New York you can find the Staypineapple, an Artful Hotel, in the middle of the city a few blocks away from Bryant Park, a nice green space, and remember this is in the heart of a city where green spaces can be hard to find.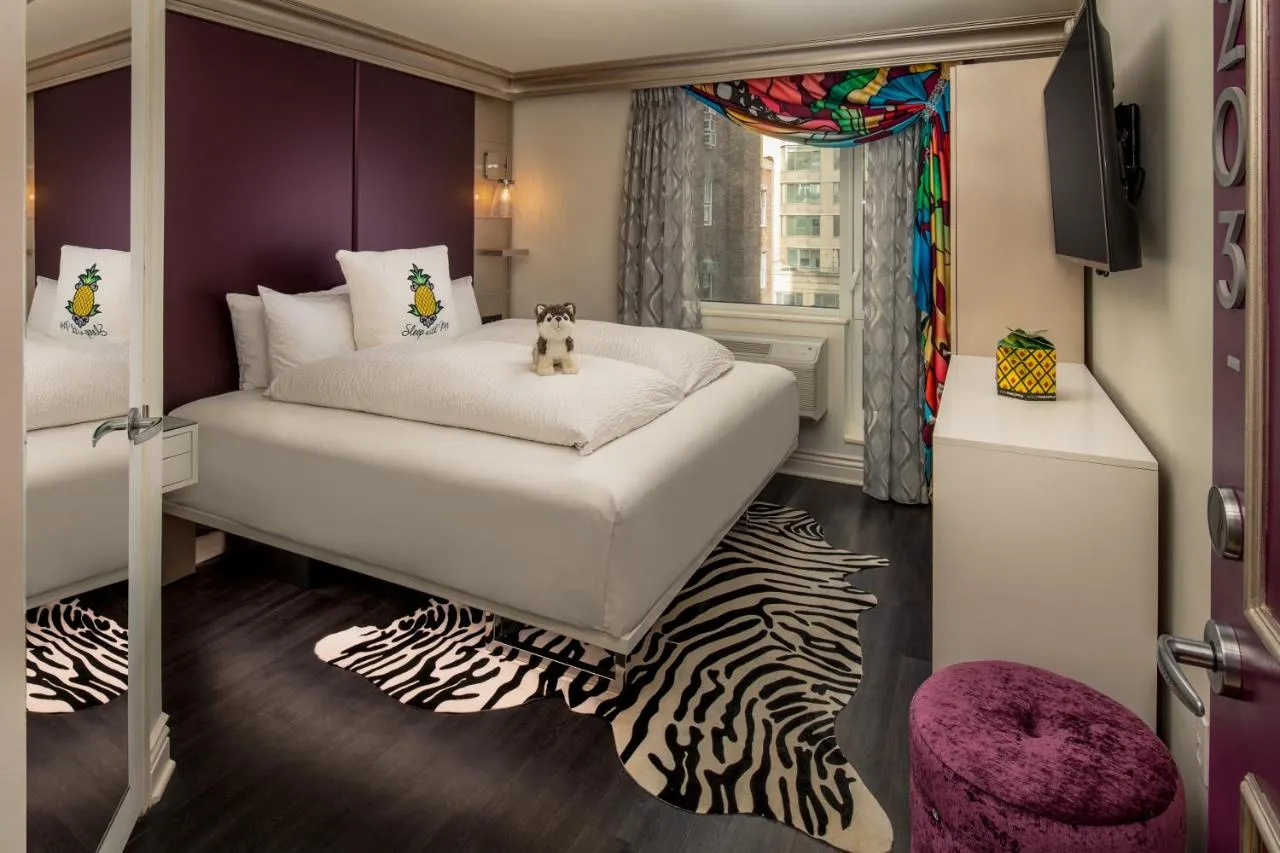 In downtown Chicago you can find the Staypineapple, an Iconic Hotel, in an incredibly iconic building a couple of blocks away from Millenium Park next to the Art Institute of Chicago, and Grant Park which contains the historic Buckingham Fountain right by the waterfront, ensuring scenic dog walks during your stay.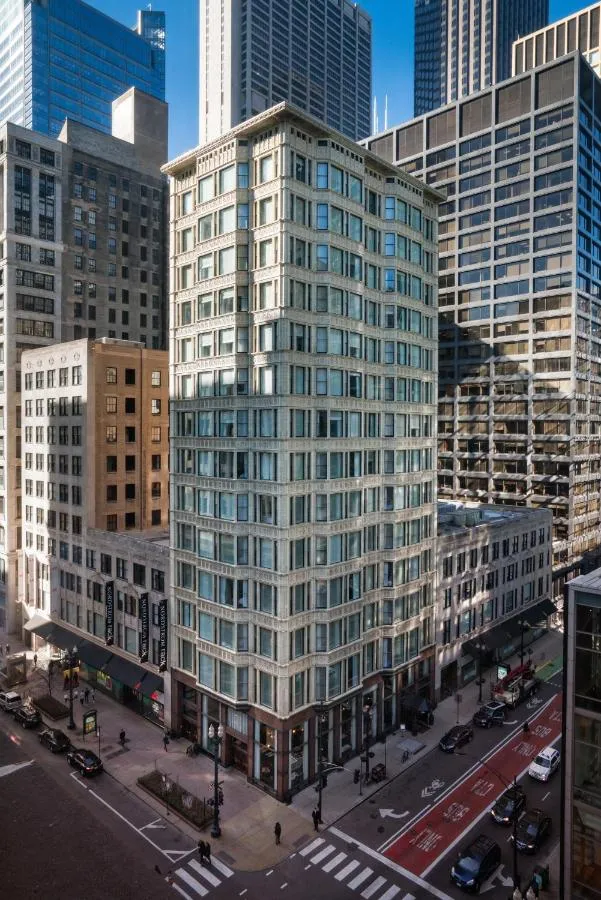 In the heart of Boston you can find the Staypineapple, a Delightful Hotel, only a few blocks from the Charles River Esplanade for waterfront dog walks, and the Boston Common city public park for off leash green space goodness!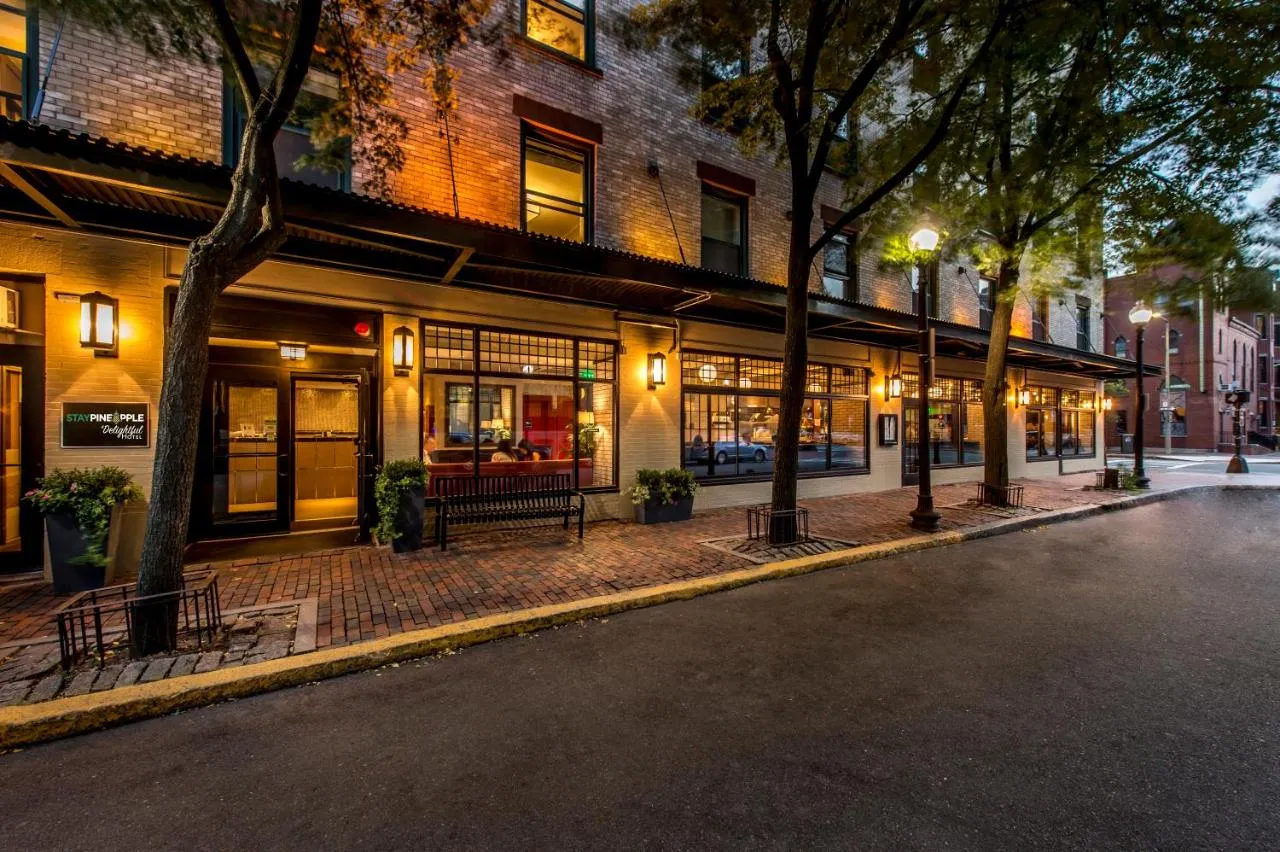 The Staypineapple Hotel Group has four hotels in Seattle, making it their favorite city and offering dog owners the widest choices of services and amenities from the four different properties they have across the city. Seattle has an amazing choice of dog friendly hotels because of Staypineapple's presence in the city.
First up is their Maxwell Hotel, a few blocks away from top notch dog walks through the waterfront Myrtle Edwards Park, the sparwling Kinnear Park, and the public green spaces around the famous Seattle Space Needle.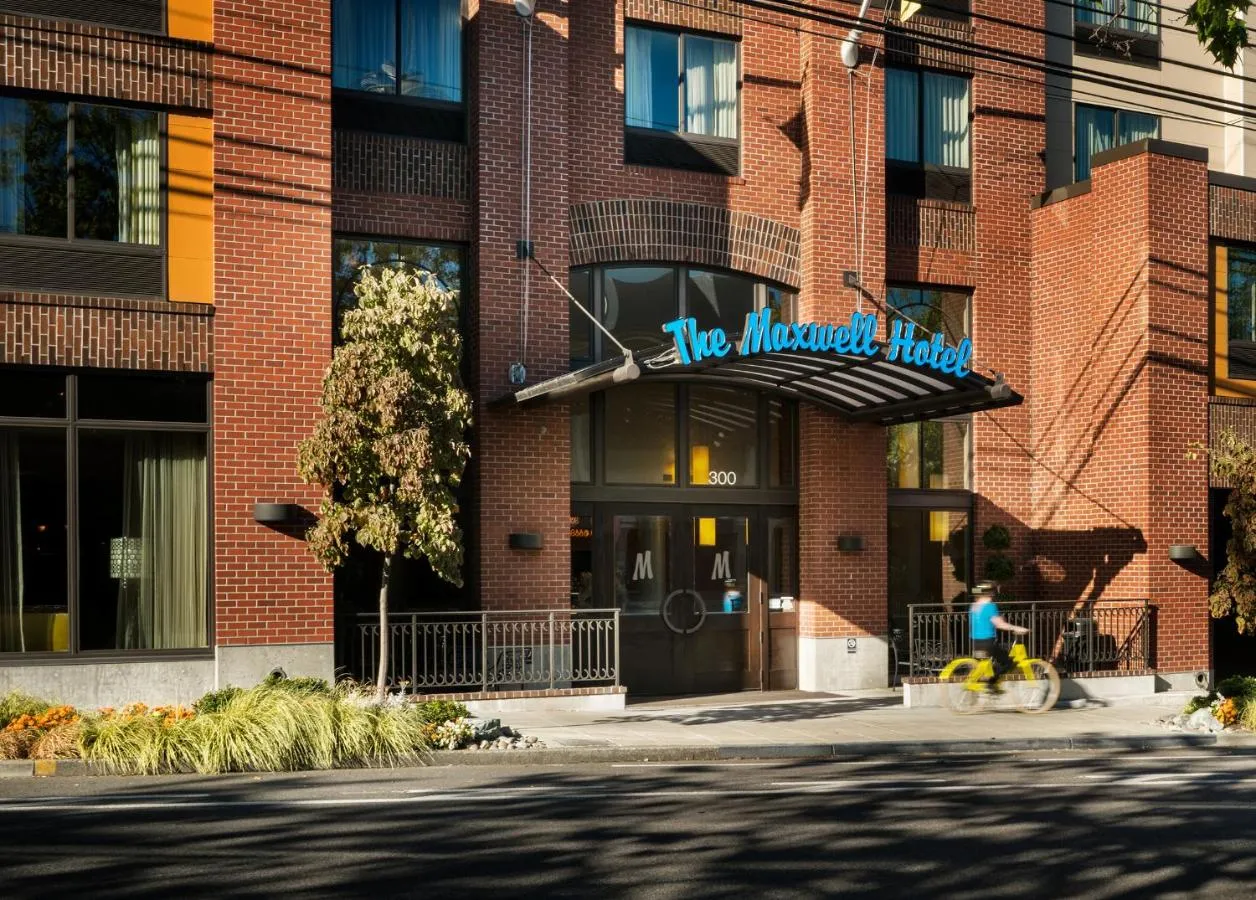 Next up in Seattle is the splendidly named Staypineapple Hotel FIVE, which is a few blocks away from the public Denny Park green space with an off leash area.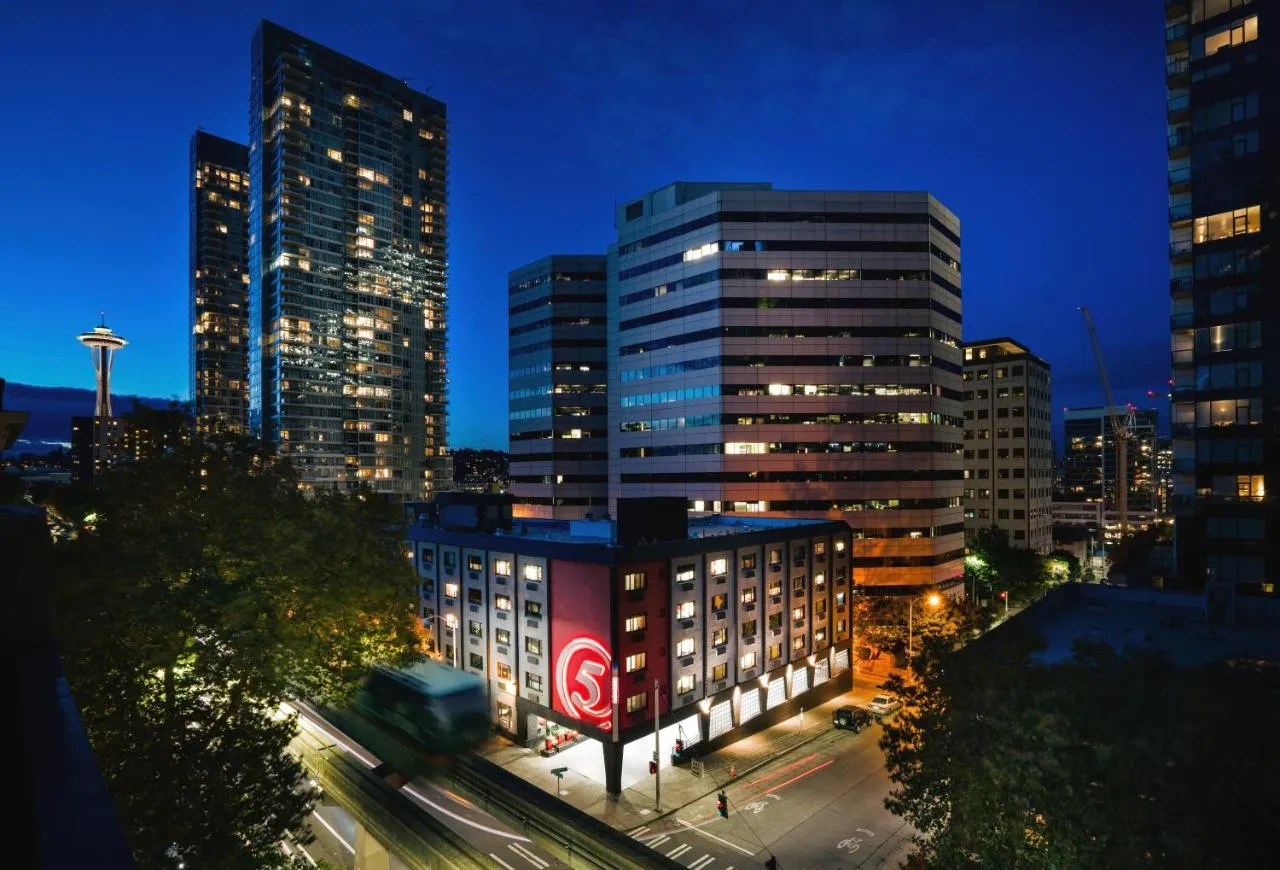 The Staypineapple Watertown Hotel has easy access to some incredible green spaces close by where you can walk your dog, including the Union Bay waterfront natural area, and the lovely lawns of the University of Washington.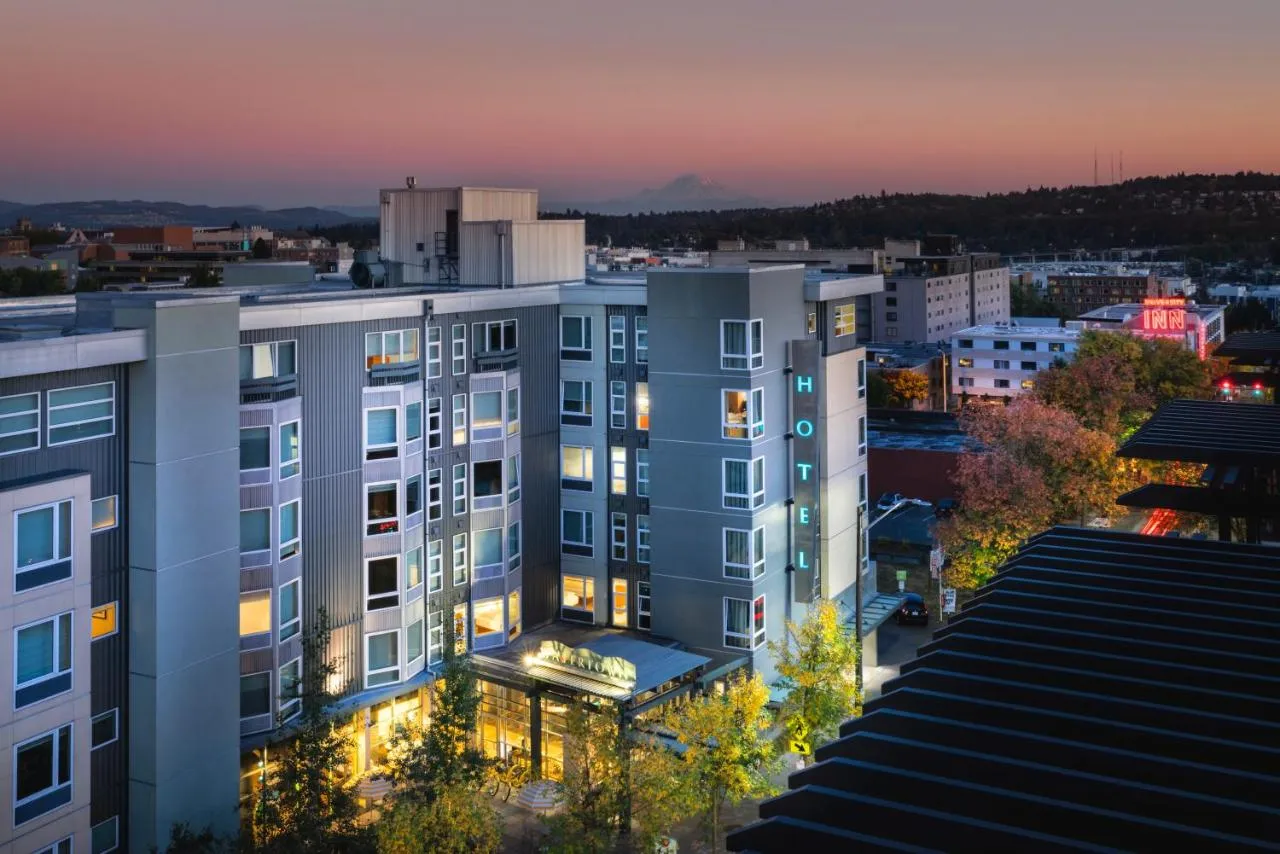 Finally in Seattle is the Staypineapple University Inn, which is very close to the Watertown Hotel and enjoys easy access to the same green spaces as above.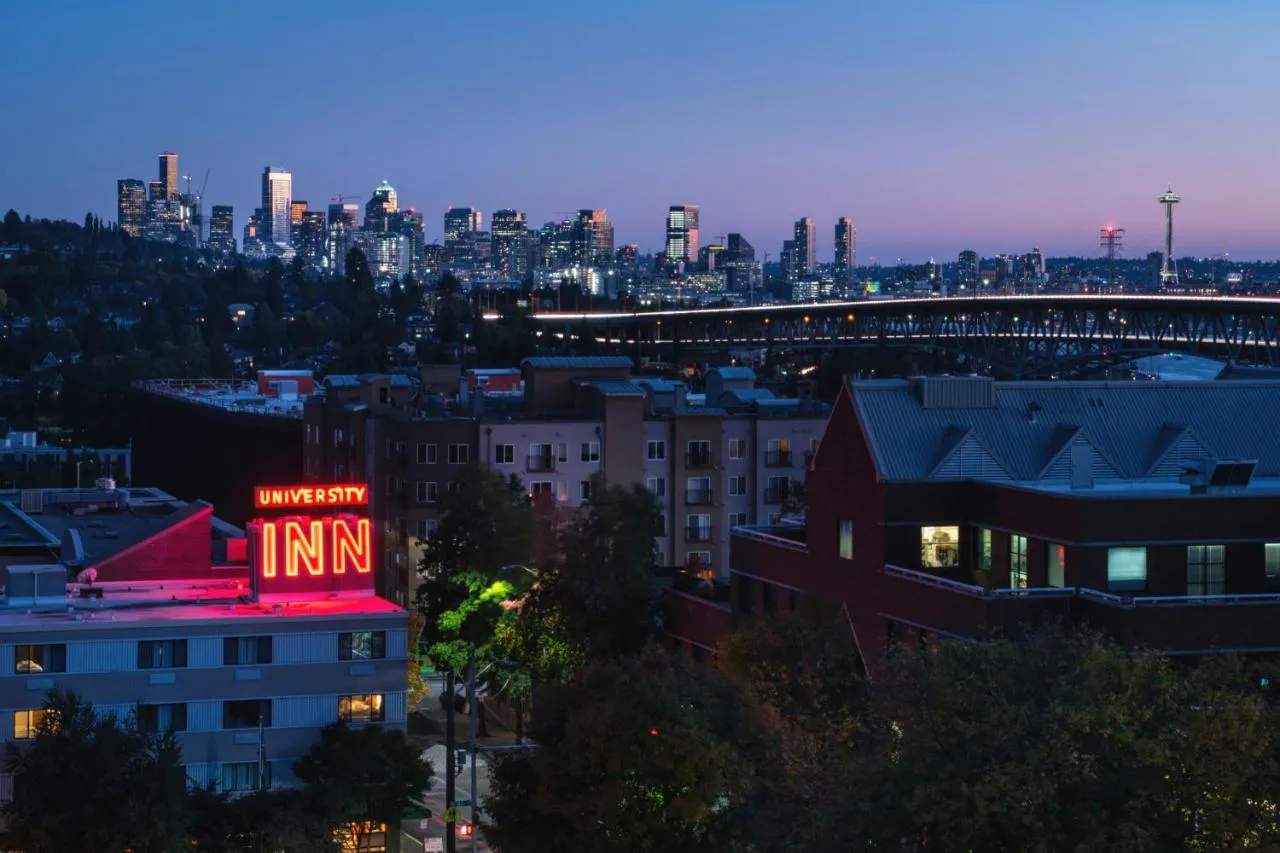 Should you and your dog ever find yourselves in downtown Portland and in need of a place to stay, head to the Staypineapple Hotel Rose for sanctuary. It is right in front of the fabulous Mill Ends Park that stretches along the waterfront of the Williamette River, just walk across the road for scenic waterfront dog walks.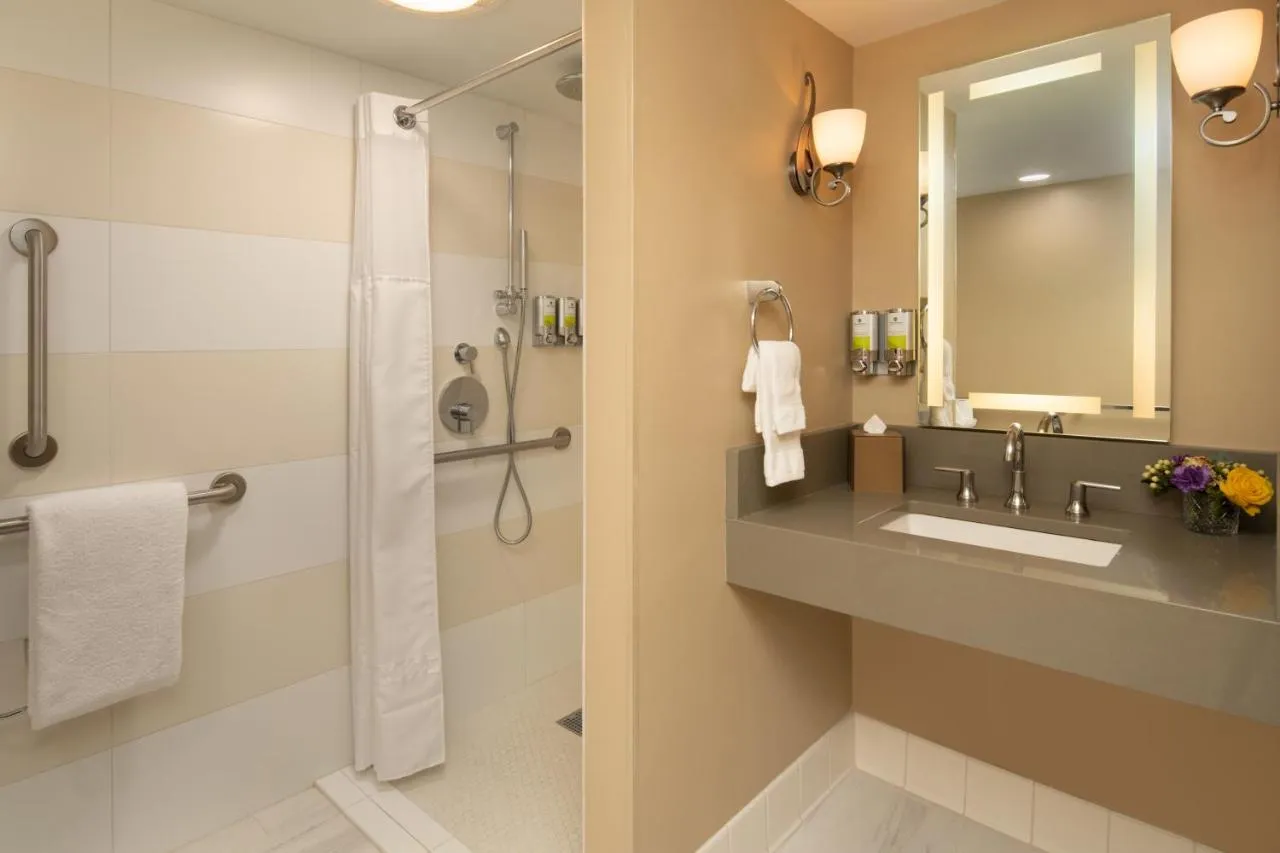 Last but not least, in San Diego you will find the Staypineapple Hotel Z, close to a number of green spaces including the Children's Park, the Park At The Park where there are picnic tables, and for those in the mood for a seriously scenic dog walk, walk just a few blocks more to discover the incredible Balboa Park.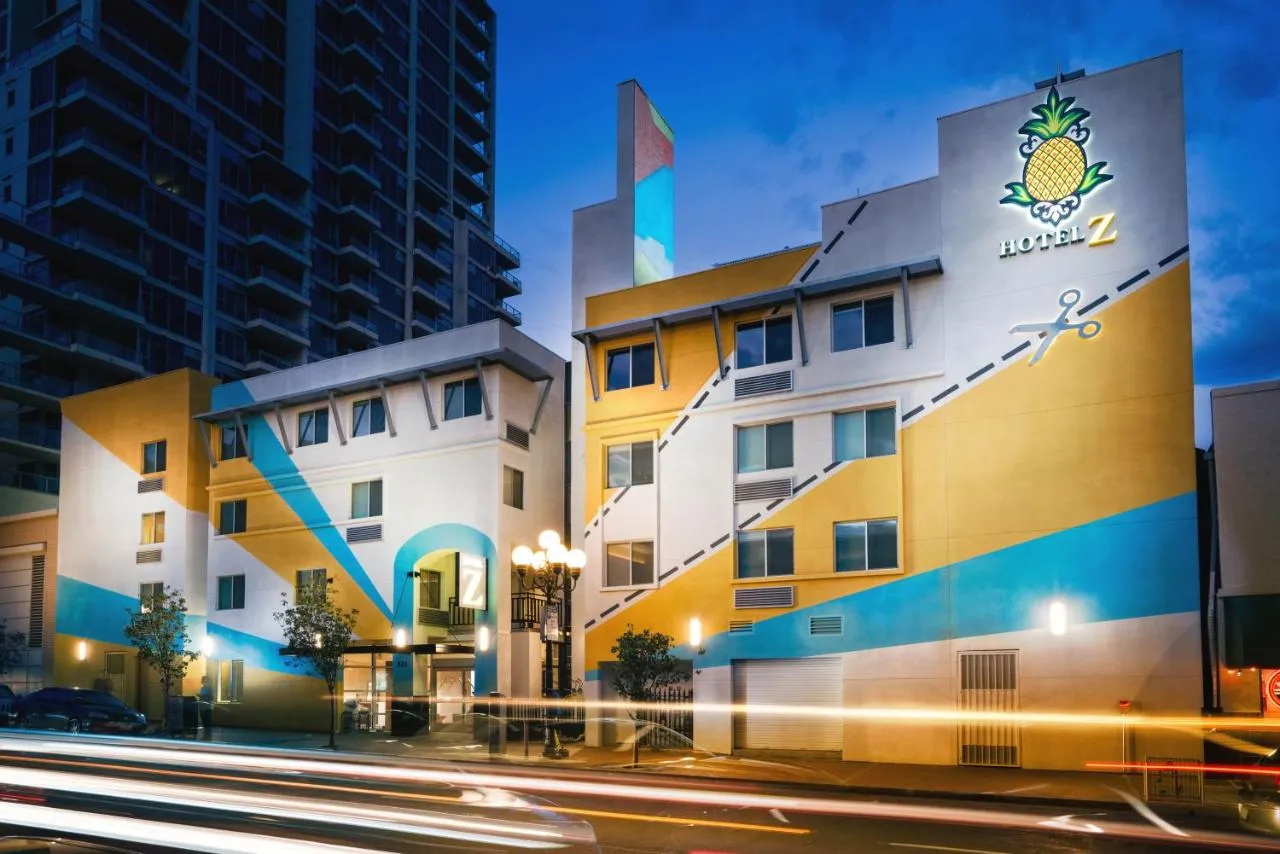 The Negatives
I like to leave the negatives until the end of a review, but in Staypineapples case there are so few of them that they are barely worth pointing out. It isn't actually their fault that most of their properties lack the private gardens that make walking your dog really convenient, because their hotels are all in city center locations. They compensate with dog walking guidance for the surrounding neighborhoods and the nearest green spaces, a park is never far away.
The Roch Standard considers pet fees a negative as a point of principle. While Staypineapple lost points in our certification for charging $25 per night, I will say that the majority of hotels I have stayed at with my dog charged me a dog fee, and it was never as low as $25. The good news is that if you book direct with them you can get half off this fee. All in all, that is about as negative as I can be about the group, it is actually quite hard to find fault in them.
Conclusion
The Staypineapple Group is a collection of seriously dog friendly hotels who take dog friendliness seriously. It is difficult to find fault with them, even when they did lose points for reasons that were mostly beyond their control in a city, such as private garden access, they make up for it with some amazing public park green spaces close to all of their properties. Despite being in major cities, the Staypineapple hotel locations are never far from a good dog walk.
From the top down, Staypineapple has dog friendliness drilled into it. Being dog friendly and welcoming to canine guests is something that everyone from the C suite, to the front desk cares about at the group, and is something they are justifiably proud of. It is obvious in their policies, their attention to detail, and in the way they are competitive about being dog friendly. All of this adds up, and is the secret sauce that helps make Staypineapple one of the dog friendliest group of hotels in North America. Good work that team, you certainly earned my business.
** This is not a paid review and reflects the personal opinions of our founder.